Do you think Bobby Jones' Grand Slam Season Overrated?
Do you think Bobby Jones' Grand Slam Season Overrated?
Golf Chats is a website to encourage discussions on various subjects relating to the game of golf. I am Mel Sole, Director of Instruction of the Mel Sole Golf School and SAPGA Master Professional.  I invite you to enter into a discussion on this or any article on the golfchats.com website.  The input is for the entire subscriber base to learn something new each time!  Please post your comments below.  Keep it clean and tasteful.  We are here to learn from one another!
In 1930 the great Bobby Jones won the "Grand Slam."  
In 1930, composed of the British Open and Amateur Championship and the United States Open and Amateur Championship.   A far cry from the requirement today of the Masters, US Open, British Open, and the PGA Championship.
Do you think Bobby Jones feat was harder or easier than today's Grand Slam – the debate goes on!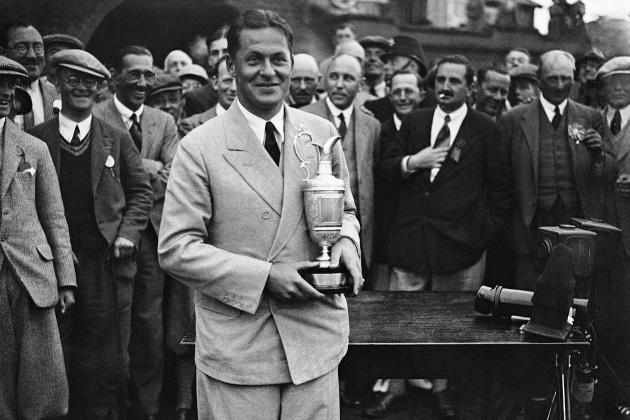 As Jordan Spieth was making his run at a third consecutive major last week at St. Andrews, the comparisons to Bobby Jones' 1930 single-season "Grand Slam" inevitably commenced.

For those who enjoy romanticizing history, this comparison may have seemed warranted.

But by delving into Jones' 1930 wins a little deeper, one will quickly realize that any comparison between a modern-day professional Grand Slam and the four tournaments Jones won in 1930 is almost laughable.
By 1930, golf had already evolved into a professional game.
Amateurs won three out of the four U.S. Opens played between 1913 and 1916.

But between 1919 (the event was not held in 1917 or 1918 due to World War I) and 1930, Jones was the only amateur to win the U.S. Open.

In fact, only four other amateurs even cracked the top 10 at a U.S. Open during that time frame. After Jones' 1930 U.S. Open victory, only one other amateur—Johnny Goodman—would ever win a U.S. Open.

Jones was also the only amateur to win the British Open between 1920 and 1930, although Roger Wethered came close in 1921 when he tied for the 72-hole lead and lost to Jock Hutchison in a playoff.

Aside from Jones and Wethered, only three other amateurs cracked the top 10 at the British Open in the decade leading up to Jones' Grand Slam run in 1930.

Any way you slice it, the era's top golfers, other than Jones, were almost exclusively professionals, with Walter Hagen and Gene Sarazen clearly leading the way.
Jones' 1930 Grand Slam consisted of wins at the U.S. and British Open, and the U.S. and British Amateur.
The Masters had not yet been formed, and Jones was not eligible to compete in the PGA Championship, as this event was only open to professionals.

This meant that Jones only needed to compete against a superior field of professional golfers at two out of those four Grand Slam events. In addition, Hagen and Sarazen didn't even make the trip over to England for the 1930 British Open at Royal Liverpool.

So, essentially, Jones only competed against the other two top players of that generation at one of his four Grand Slam events, the 1930 U.S. Open, which he won at Interlachen Country Club.

As an amateur, events such as the U.S. Amateur and British Amateur would have been extremely important to Jones, but these would not have been even remotely close to the toughest fields Jones could have competed in during the 1930 season.

It would have been far more difficult for Jones to win the U.S. Open, the British Open and events such as the Western Open (which many considered to be another major during that era) and the North and South Open (another event attended by virtually every top professional of that era).

Wins at those four events would have come against professional fields that were significantly stronger than those he faced off against at the U.S. and British Amateurs.

While the general public of the time may have still held more respect for gentlemen amateur golfers than the so-called traveling gamblers that made up the professional ranks, there is no question that the professional golfers were far superior to the amateurs throughout most of the 1920s and certainly by 1930.
As such, Jones' 1930 Grand Slam cannot even really be compared to a modern-day professional Grand Slam.
As any modern-day Grand Slam would involve beating all of the top golfers on the planet at four straight majors.

Tiger Woods winning four consecutive majors between 2000 and 2001 was in a whole other stratosphere when compared to Jones' four wins in 1930.

Ben Hogan winning all three majors he attended in 1953 was also a far more difficult feat than Jones' Grand Slam.

Jack Nicklaus winning three consecutive majors between the 1971 PGA Championship and the 1972 U.S. Open and then finishing second at the 1972 British Open was also a much more difficult accomplishment than what Jones achieved in 1930.
Jones' career has always been draped in a mythical aura.
The man practiced law by day and beat some of the game's best all-time professionals on the weekends before simply walking away from competitive golf at the age of 28.
Check out the rest of this compelling article here.
Source: Michael Fitzpatrick
Pictures: Associated Press   Keith Allison  PGA Tour
Thanks for reading – Do you think Bobby Jones' Grand Slam Season Overrated?
Related Posts.
Is Bobby Jones' 1930 Grand Slam Victories Overrated?
Will you see Golf's Career Grand Slam at Augusta?
11 Majors and a Career Grand Slam earns only $200 thousand?
10 Overrated ideas in golf – #6 is my favorite!
Great Stories at Women's Open . . . Trump not one of them!
PLEASE SUBSCRIBE TO MY CHANNEL, LIKE THIS VIDEO, SHARE IT WITH A FRIEND, LEAVE A COMMENT!
Tags: Bobby Joes, GOLF.com, Grand Slam, Michael Fitzpatrick, PGA Tour, Tiger Slam