College Golf's "Top 10" of 2015 – What a Great year!
College Golf's "Top 10" of 2015 – What a Great year!
Golf Chats is a website to encourage discussions on various subjects relating to the game of golf. I am Mel Sole, Director of Instruction of the Mel Sole Golf School and SAPGA Master Professional.  I invite you to enter into a discussion on this or any article on the golfchats.com website.  The input is for the entire subscriber base to learn something new each time!  Please post your comments below.  Keep it clean and tasteful.  We are here to learn from one another!
The 2015 Men's College golf season was exciting as usual!  From Stanford golfer Maverick McNealy's Haskins Award-winning season to LSU's victory at the NCAA Championship, Golfweeks   Brentley Romine counted down the top 10 moments in men's college golf in 2015.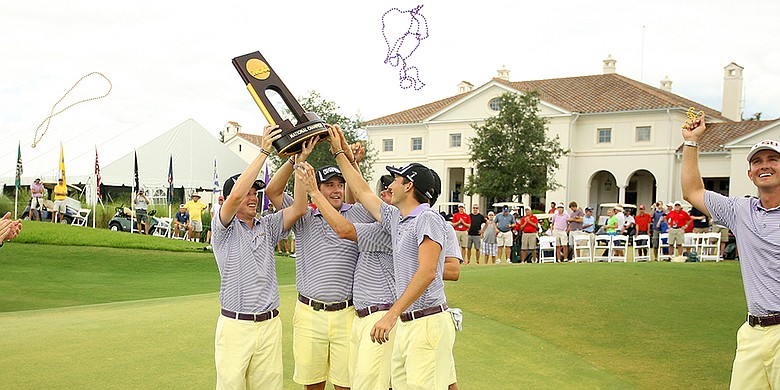 • • •
10. Auburn had to be feeling pretty good after this fall season.
Not only did the Tigers hold the top spot in the Golfweek/Sagarin rankings, but senior Michael Johnson topped the individual rankings, as well. War Eagle.
---
---
8. No team had a more dominating regional performance than Oklahoma.
The Sooners traveled west and won the San Diego Regional by 20 shots at 21-under 843. They also did it without having the individual champion, although Max McGreevy and Michael Gellerman did share runner-up honors to Arizona State's Jon Rahm.
---
7. Oklahoma might have had the more impressive regional win.
But Charlotte's victory at the Chapel Hill (N.C.) Regional was arguably the best story. The 49ers were the ninth seed but rallied past Stanford to win by five shots and capture the program's first regional title.
---
6. After falling short of expectations last fall, Texas had a spring season to remember.
The Longhorns won six times, including conference and regional titles. They also won the Western Intercollegiate and Southern Highlands Collegiate Masters, considered two of the top regular-season events, by 14 and 10 shots, respectively.
To see the other 5 of the Top 10 College moments of 2015, go here!
Source:  GolfweekBrentley Romine
Pictures: Tracy Wilcox    USGA   Texas Longhorns
Thanks for reading – College Golf's "Top 10" of 2015 – What a Great year!
Related Posts.
4 Big Reasons That You Should Tee It Up In the Fall!
11 of the Prettiest Swings in Golf – #2 is my favorite!
Get Your Kid a Free Education. . . .with Golf!
PLEASE SUBSCRIBE TO MY CHANNEL, LIKE THIS VIDEO, SHARE IT WITH A FRIEND, LEAVE A COMMENT!
Tags: Brentley Romine, college golf mens top 10 moments, Golfweek.com