Is Amateur Maverick McNealy today's Bobby Jones?
Is Amateur Maverick McNealy today's Bobby Jones?
Golf Chats is a website to encourage discussions on various subjects relating to the game of golf. I am Mel Sole, Director of Instruction of the Mel Sole Golf School and SAPGA Master Professional.  I invite you to enter into a discussion on this or any article on the golfchats.com website.  The input is for the entire subscriber base to learn something new each time!  Please post your comments below.  Keep it clean and tasteful.  We are here to learn from one another!
It's rare that I post about Amateur players, but Maverick McNealy is something to write home about!
McNealy, a 19-year-old Junior at Stanford University, won 6 college tournaments last season, captured the Fred Haskins & Jack Nicklaus awards as a top college golfer, and is No. 2 World Amateur Golf Rankings. WOW!
As Adam Schupak says in his story for GolfWeek magazine, it's usually at this point that you hear that the young golfer is quitting college early to play the PGA Tour and receive big money from endorsements. "No chance. . . " replied McNealy, to that inquiry.
What is different about this young phenom, and why is he being likened to the great Bobby Jones?
See his story here. One of the best parts is how his Father raised McNealy and his three brothers.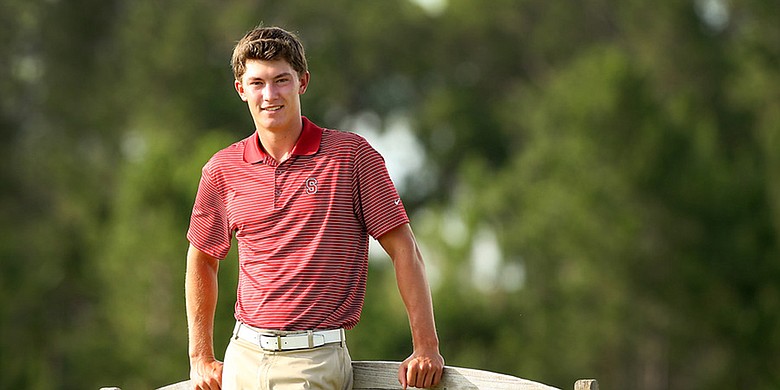 When Maverick McNealy arrived at Stanford in 2013, his teammates found the freshman had an unusual habit: he had to eat a ham sandwich every two holes.
"That always cracked me up," Stanford men's coach Conrad Ray said. "You'd think the bogeys were coming if he didn't have the right ham sandwich."
McNealy overcame his superstition – these days, it's one ham-and-cheese and one PB&J – and kept the bogeys at bay.
The 19-year-old junior from Portola Valley, Calif., won an NCAA- best six college tournaments last season, including a 10-stroke romp at the Pac-12 Championship, and led the nation with a 69.05 scoring average. McNealy captured the Fred Haskins and Jack Nicklaus awards as the top college golfer in 2014-15. He has risen to No. 2 in the World Amateur Golf Ranking.  He was one of the selct few that were picks to the U.S. Walker Cup team that will play Great Britain & Ireland this month.

McNealy's sophomore season was the type that earns lucrative endorsement deals and often leads to an early college exit to chase the Monopoly money available in the pro ranks. But McNealy embodies the all-around excellence of an astronaut, and he may take a different route to owning Park Place and Boardwalk someday. He sizes up his future with the same intensity as if reading a putt. When asked whether he considered forgoing any of his college eligibility to turn pro, McNealy quickly replied: "No chance. Quite frankly, I don't know if professional golf is going to be what I end up doing."

It has been more than two decades since a player of McNealy's caliber has made such declarations, and it speaks to another truth about this gifted golfer. His gaudy record does not drive him as much as a quest to lead the Cardinal to a national championship.
He's a throwback, with more interest in a business career and making a name as a career amateur.
McNealy's father, Scott, a Silicon Valley titan who co-founded Sun Microsystems (sold to Oracle in 2010 for $7.4 billion), serves as a model. So what does dad think of his son's potential?

"There's Steve Jobs, there's Bobby Jones and there's Jordan Spieth. He has the opportunity to try to be like any of those," Scott McNealy said. "He has all the skills, all the background and all the support in the world to do any one of those three. The question he has to ask himself is, 'What matters to him most?' "

• • •
McNealy learned the game from his father, a self-proclaimed golf major at Harvard.
He later held the lowest handicap of any Fortune 500, a reported plus-2. Scott McNealy remembers the time he took his 5-year-old son to the practice range and first realized his raw promise.

"There was a ball picker facing us, no more than 30-40 yards away, and he had a 3-wood. He aimed at the tractor, and I swear he hit the grill nine out of 10 shots," Scott said. "I just said to myself, My boy's not going to have a problem hitting it straight."

Scott tried to instill in his four boys, the oldest of whom is Maverick, the same ferociousness that made him a success. That included one bedroom for the brothers to share, with four twin beds lining the wall. No telephone, computer or TV.

"I have four boys that were told if you don't get a 4.0, you don't get to play sports," Scott said. "You might not get dinner."

Golf was a perfect outlet for an increasingly competitive kid such as Maverick, yet the game never received his full devotion. He played ice hockey for the San Jose Junior Sharks and considered playing both sports at an Ivy League school until Ray called.

"As soon as his arrival on campus, I knew he was pretty special," former teammate Patrick Rodgers said. "You could see he had super potential. He just had something that the other kids maybe didn't have."
To check out the rest of the story on Maverick McNealy, go here!
Source: This story originally appeared in the Sept. 7 issue of Golfweek.  Adam Schupak
Pictures: Tracy Wilcox
Thanks for reading Is Amateur Maverick McNealy today's Bobby Jones?
Related Posts.
Is Bobby Jones' 1930 Grand Slam Overrated?
Adam Scotts Career went from World #1 to Forgetful in 365 days!
The Reason Tiger Woods Left Stanford – You'll Be Surprised!
Is Bobby Jones' Grand Slam Season Overrated?
There is a golf ball out there for you – Find out which one!
PLEASE SUBSCRIBE TO MY CHANNEL, LIKE THIS VIDEO, SHARE IT WITH A FRIEND, LEAVE A COMMENT!
Tags: Adan Schupak, amateur golf, bobby jones, Golfweek.com, Maverick McNealy